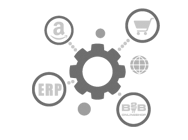 Overview of inbase's Büro Plus Next (Büro+) solutions
We have developed interfaces for merchandise management with Büro Plus NexT from the Microtech Company for imports to and exports from various shop systems (xt:Commerce, myCMS shop module, OSCommerce).

Since 2000, our customers have utilised reliable and automated solutions which are linked to Büro Plus.

Our products use the COM interface (Com-Aktiv) that has been provided by Microtech.

With regards to our programs, we focus particularly upon reliable, automated and flawless operational sequences.
As a rule, user interventions are not required.
With regards to imports to and exports from the shop systems, e.g. all data to be transferred is protected by creating back-up copies so that they can be recovered at a later point in time. Our customers handle the data which they want to receive, not how they are supposed to receive them!

In this regard, programmes have also been developed which our partners can use without support:
With our bpStarter solution, the imports or exports stored in BP NexT are "launched externally" without Büro Plus being started. Thus, for example, the exporting can also be carried out in batches or in a time-controlled manner.
Thus, our customers take direct control of their export definitions and use our tools in order to generate their data in an automated fashion.

Furthermore, we can quickly and reliably respond to our customers' new requirements owing to our many years of experience and intensive cooperation with our partners.
Thus, it can often take only a few days to go from the drafting of a requirements profile until the solution is ready for use.
Overview Büro Plus Next (Büro+) solutions and software
bpStarter: is a software for the automated execution of Büro Plus Next (Büro+) exports and imports

bpOnline: Program to import and export of Büro Plus NexT (Büro+) data to shop system

bpImage: Program for reading images from Büro Plus NexT + conversion to JPEG

bpConnChk: Program to test the BP NexT connection

bpCheck: Program to terminate existing NexT COM instances (bpKill, COM-Killer)

bpAddress: Program to export address data in SQL environments

bpStats: Program to export item data / statistics in SQL environments

bpLager: integrates barcode scanning device with Büro Plus NexT

bpHistory: Access evaluation of history data as sales history by week

Various Office (Access / Excel) interfaces for reading out the available inventory, prices, statistics, etc.