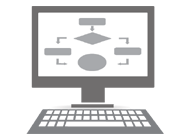 GetExRate
Software for currency rates with the current currency rates of the ECB
© 2009 inbase gmbh
With graphical user interface or or to use in batch mode.
Notes about operation:
The exchange rates are calculated based upon the currency exchange rates issued by the ECB.
The "rate" column reflects the ratio of the euro to foreign currency, e.g. 1 EUR = 1.4881 USD.
The "rate2" column displays the reversed ratio of the foreign currency to the euro, e.g. 1 USD = 0.672 EUR.

Base rate selection
The issuance of the ECB's exchange rates shall be made based upon the euro (EUR).
By means of the base rate, the calculation basis, you can also calculate the exchange rates upon a different basis.
For example, if USD is selected as the basis, then all exchange rates based upon 1 USD are displayed.
Thus, 1 USD corresponds to precisely 0.672 EUR or rate2: 1 EUR = 1.4881 USD (as of 15/10/2009)


Options
Select the currencies from the "Options" menu for which the calculations are supposed to be made or which you wish to prepare for importing into an ERP system or the like.
Delimiter: Delimits the fields for the outputting of the exchange rate file.
Display date: Displays date column on the list or outputs exchange rates in one file.


Additional functions
The date formats and designated additional functions must be activated via start parameters. Thus, the date is displayed in the format "01/01/2010" via the GetExRate date format dd/mm/yyyy.

>> Download GetExRate manual
Note
All names, trademarks and logos are the property of their respective owners.
All trademarks, copyrights and other signs are acknowledged.

© 2009 inbase gmbh
inbase gmbh
Klotzenmoor 57
D- 22453 Hamburg
Geschäftsführer Andreas Bräunig
Amtsgericht Hamburg HRB 106219
USt.-Identnr DE261004155

Fone: +49.40.37 87 922 - 0
Fax: +49.40.37 87 922 - 50
3W: http://www.inbase.com, http://www.mycms.de
Büro Plus NexT, Büro+ and other named microtech products are trademarks of the microtech GmbH, Bad Kreuznach, Germany
SAP, mySAP and other named SAP products are trademarks of the SAP AG.